First | Previous | Next | Last
From the Mundane to the Magnificent

- A Volume of Autobiography

(1979)
This Edition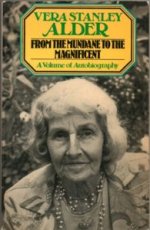 | | | | |
| --- | --- | --- | --- |
| Published | 1979 | First edition | Yes |
| Format | Softcover (127x197mm) | Edition | |
| Publisher | Rider Books | Printing | |
| ISBN | 0-09-138071-5 | Printed by | The Anchor Press Ltd |
| | | Country | UK |
| Series | | No of pages | 204 |
| Volume | | | |
Notes
At times amazing autobiographical account of the author in wartime England. It includes an intriguing episode in her life which took place in 1942. She relates how an advanced being, whom she calls Raphael, takes it upon himself to reveal to her aspects of reality in a series of 'hands-on' experiences on the inner planes. In the last of these lessons he grants her wish for a vision of the future.
    She asks if such a brilliant future could ever be realized, and he assures her: "Of course it could -- and it will! It would come about fairly soon if we could break the world money-complex!" (p.195) He also reminds her that this will be possible through the intervention in the near future of the 'Ever-Coming One,' the Christ, known in the East as Maitreya Buddha (p.199).
    Benjamin Creme's Master confirms that this was an authentic experience (Share International No.7, September 2001, p.27).
Miss Alder (1898-1984) contacted Benjamin Creme about his information on the reappearance of the World Teacher and he met her at her home in Bournemouth, England.
Published in the US by Samuel Weiser (1980). Re-published in the UK in 1988 as From the Mundane to the Magnificent -- Memories and Reflections. After having been out of print for many years, this title was republished by Lucis Trust in 2017.
Links