First | Previous | Next | Last
Master Index of the Books of Alice A. Bailey

(1974)
This Edition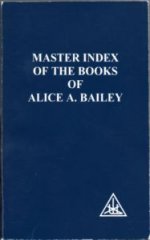 | | | | |
| --- | --- | --- | --- |
| Published | 1998 | First edition | No |
| Format | Softcover (190x118mm) | Edition | 3rd |
| Publisher | Lucis Publishing Company | Printing | |
| ISBN | 0-85330-144-1 | Printed by | |
| | | Country | USA |
| Series | | No of pages | 794 |
| Volume | | | |
Notes
An indispensible addition to the series of Alice Bailey books, the first edition of this monster index was compiled by the Aquarian Educational Group, a study group led by the late Torkom Saraydarian, in Agoura, California, USA in 1974. Typed in regular typewriter-size text over the width of the page, the index was virtually unmanageable at 1,030 photocopied Letter-size pages. The second edition (Aquarian Group, 1986) was somewhat easier to handle at 586 pages because it used a two-column layout.
    This is the first edition in actual paperback format with the indices to The Problems of Humanity and The Unfinished Autobiography, that were missing from the first edition, integrated. An index to The Labours of Hercules is still missing.
    Nowadays the Lucis Trust Twenty-Four Books of Esoteric Philosophy cd-rom (1998) and the online availability of the books makes it even easier to find references or passages.
In 1978 a 51-page Reference Guide to the teachings of DK by Alice A. Bailey was compiled by Aart Jurriaanse (World Unity and Service, Craighall, SA).
Links
Original Edition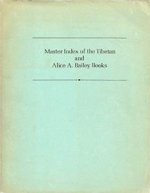 | | |
| --- | --- |
| Original title | Master Index of the Tibetan and Alice A. Bailey books |
| Original subtitle | |
| Original publication year | 1974 |
| Original publisher | Aquarian Educational Group |
| Original country | |
| Original language | |