First | Previous | Next | Last
The Destiny of the Nations

(1949)
This Edition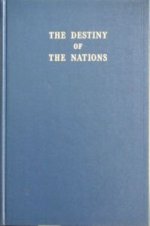 | | | | |
| --- | --- | --- | --- |
| Published | 1978 | First edition | No |
| Format | Hardcover (236x156mm) | Edition | |
| Publisher | Lucis Press Ltd | Printing | 6 |
| ISBN | | Printed by | Fort Orange Press, Inc. |
| | | Country | UK |
| Series | | No of pages | 162 |
| Volume | | | |
Notes
"As a man is subject to the impact of energies emanating from solar and cosmic sources, so is a nation. Different nations are more receptive to some energies than to others; and all nations have a destiny that is based on the qualities of their particular soul and personality rays." In this book the Master DK describes the ray qualities that affect the major nations of the world and how our knowledge of these ray influences can be used intelligently to promote understanding and unity.
    In Maitreya's Mission, Vol.I Benjamin Creme's Master gives the rays of many additional nations.
Referenced in Benjamin Creme (1996).
Links
Original Edition

| | |
| --- | --- |
| Original title | |
| Original subtitle | |
| Original publication year | 1949 |
| Original publisher | |
| Original country | |
| Original language | |