First | Previous | Next | Last
Problems of Humanity

(1947)
This Edition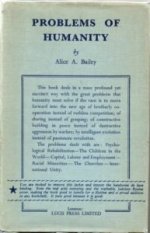 | | | | |
| --- | --- | --- | --- |
| Published | 1953 | First edition | No |
| Format | Hardcover (220x142mm) | Edition | |
| Publisher | Lucis Publishing Company | Printing | |
| ISBN | | Printed by | George S. Ferguson Company |
| | | Country | USA |
| Series | | No of pages | 221 |
| Volume | | | |
Notes
"It is essential for the future happiness and progress of humanity that there should be no return to the old ways, whether political, religious or economic. Therefore, in handling problems, we should search out ... wrong conditions... These conditions were the result of religious faiths which have not moved forward in their thinking for hundreds of years; of economic systems which lay the emphasis upon the accumulation of riches and material possessions and which leave all the power and the produce of the earth in the hands of a relatively few men, while the rest of humanity struggle for a bare subsistence; and of political regimes run by the corrupt, the totalitarian-minded, the grafters and those who love place and power more than they love their fellowmen." (p.245/1947ed; p.207/1953ed; p.169/1964ed)
    In this volume the Master DK also writes about the coming education which, he says, "could be defined in a new and broader sense as the Science of Right Human Relations and of Social Organization" (p.98/1947ed; p.74-75/1953ed; p.58/1964ed). He says: "Education is a deeply spiritual enterprise. It concerns the whole man and that includes his divine spirit." (p.62/1947ed; p.42/1953ed; p.35/1964ed)
    In a paragraph entitled 'The Long Range Plan', He outlines the educational system as a threefold process whereby primary schools are regarded as the custodians of Civilization where the instinctual reactions will be watched and cultivated; secondary schools will be seen as the custodians of Culture where the intellectual and mental development will be emphasized; while colleges and universities will give purpose and significance to all that has been done until then in order to train for world Citizenship based on intuitional potentiality (pp.95-97/1947ed; pp.72-74/1953ed; pp.53-55/1964ed). This passage was later reworked and included in Education in the New Age (pp.76-92), first published in 1954.
The first UK edition (260 pages) was published in 1948. Revised editions were published in 1953 and 1964, which had progressively fewer pages.
    The text at the bottom of the dust-jacket of this 1953 edition reads: "You are invited to remove this jacket and inspect the handsome de luxe binding. Note the real gold stamping and the washable, fadeless Rexine cover, making the book good to handle for a lifetime and a proud addition to any bookshelf. It feels good because it is good."
Links
Original Edition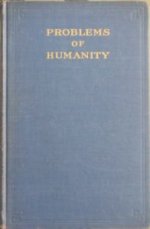 | | |
| --- | --- |
| Original title | |
| Original subtitle | |
| Original publication year | 1947 |
| Original publisher | |
| Original country | |
| Original language | |