First | Previous | Next | Last
Esoteric Astrology

(1951)
This Edition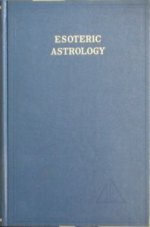 | | | | |
| --- | --- | --- | --- |
| Published | 1975 | First edition | No |
| Format | Hardcover (236x156mm) | Edition | |
| Publisher | Lucis Press Ltd | Printing | 10 |
| ISBN | | Printed by | Fort Orange Press, Inc. |
| | | Country | UK |
| Series | A Treatise on the Seven Rays | No of pages | 742 |
| Volume | 3 | | |
Notes
The Ancient Wisdom teaches that "Space is an entity" and esoteric astrology deals with the life of this entity and with the forces and energies, the impulses and the rhythms, the cycles and the times and seasons. True (esoteric) astrology, according to the Master DK, relates to the cycles of the soul, rather than the personality, of the individual. During its journey towards the perfect expression of its divinity on the physical plane, the soul will be symbolically crucified on three crosses: the Mutable Cross, the Fixed Cross and the Cardinal Cross -- adding significantly to the complexity of this science as perceived in popular culture and 'new age' circles.
This is the third volume of A Treatise on the Seven Rays. The other volumes are:
- Esoteric Psychology, Vol.I
- Esoteric Psychology, Vol.II
- Esoteric Healing, and
- The Rays and the Initiations.
Links
Original Edition

| | |
| --- | --- |
| Original title | |
| Original subtitle | |
| Original publication year | 1951 |
| Original publisher | |
| Original country | |
| Original language | |