First | Previous | Next | Last
Discipleship in the New Age, Vol. II

(1955)
This Edition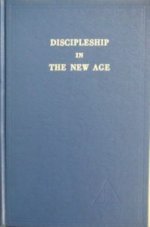 | | | | |
| --- | --- | --- | --- |
| Published | 1980 | First edition | No |
| Format | Hardcover (236x156mm) | Edition | |
| Publisher | Lucis Press Ltd | Printing | 6 |
| ISBN | | Printed by | Fort Orange Press, Inc., Albany, NY |
| | | Country | UK |
| Series | | No of pages | 818 |
| Volume | | | |
Notes
Before the continued 'Personal Instructions' to the members of the group, this volume starts with highly illuminating talks to disciples and teachings on Meditation and Initiation.
     Part VII of the teachings on Meditation is the instruction (dated April 1945) in which the Master DK, for the first time, released "the final stanza of the Great Invocation," which is the Great Invocation as it is known and used today (p.148ff). This instruction is reprinted in The Externalization of the Hierarchy (p.488ff).
    Benjamin Creme used to start his talks, at least up until 1982, with an elaboration of the use of the Great Invocation, giving visualizations for the first three stanzas of its current form, which were accompanied by mudra's and blessings from the Buddha and the Christ, Maitreya. These visualizations are described in his book Transmission, a Meditation for the New Age (p.24-25) and were given to him by his Master.
Referenced in Benjamin Creme, Maitreya's Mission, Vol.I (p.397, 1996ed).
Links
Original Edition

| | |
| --- | --- |
| Original title | |
| Original subtitle | |
| Original publication year | 1955 |
| Original publisher | |
| Original country | |
| Original language | |