First | Previous | Next | Last
The Emergence Quarterly

(1992)
This Edition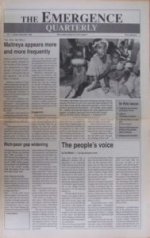 | | | | |
| --- | --- | --- | --- |
| Published | | First edition | Yes |
| Format | Newspaper (430x 270mm) | Edition | |
| Publisher | Share International | Printing | |
| ISBN | 1384-5233 | Printed by | |
| | | Country | USA |
| Series | | No of pages | 4 |
| Volume | | | |
Notes
First published in the fourth quarter of 1992, The Emergence Quarterly was conceived as a means of spreading the information about Maitreya's emergence among people with no or lower incomes in the developing countries and elsewhere. Every issue contained a selection of materials from recent issues of Share International magazine.
    The headline of the first issue, "Maitreya appears more and more frequently", refers to Maitreya's appearances to groups of orthodox believers between 1992 and 2002. This series of appearances was heralded by Maitreya's miraculous appearance, on 18 June 1988, to a group of 6000 people at a healing prayer meeting in Nairobi, Kenya. Over the years He appeared miraculously to groups of all religions all over the world, usually creating a healing well in the vicinity. Some of these wells have already been "discovered", in Mexico (Tlacote), Germany (Nordenau) and India (Nadana). An overview of Maitreya's appearances is included in Benjamin Creme (2001), The Great Approach.
This quarterly 4-page newspaper is being published to this day in English, Spanish, French and Dutch editions. To date [October 2008] the English-language quarterly has seen 59 issues.
Links