First | Previous | Next | Last
Humanity Comes of Age

- A Study of Individual and World Attainment

(1950)
This Edition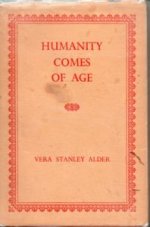 | | | | |
| --- | --- | --- | --- |
| Published | 1950 | First edition | Yes |
| Format | Hardcover (125x190mm) | Edition | |
| Publisher | Andrew Dakers Limited | Printing | |
| ISBN | | Printed by | Fletcher and Son Ltd |
| | | Country | UK |
| Series | | No of pages | 210 |
| Volume | | | |
Notes
In this book the author sets out to explain "that true independence and individuality can only successfully exist in group form!" (p.xii-xiii)
    Part I of this book, 'The Vision', which was written in the spring of 1943, gives "the barest outline of the knowledge which has existed all through the history of man and guided his development from behind the scenes".
    In Part II, 'The Preparation', the author outlines how "upon the foundations of that knowledge there can be built an entirely new way of life."
Re-published by The Aquarian Press in 1956 as When Humanity Comes of Age before it was picked up by Rider & Company.
Referenced by its original titel in Benjamin Creme (1979), The Reappearance of the Christ and the Masters of Wisdom, p.249.