Joseph Randazzo
First | Previous | Next | Last
The Contactees Manuscript

(1993)
This Edition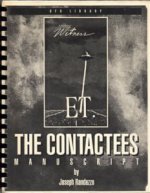 | | | | |
| --- | --- | --- | --- |
| Published | 1993 | First edition | Yes |
| Format | Comb-bound (280x220mm) | Edition | |
| Publisher | UFO Library | Printing | |
| ISBN | | Printed by | |
| | | Country | USA |
| Series | Witness ET | No of pages | 133 |
| Volume | | | |
Notes
In this collection of twelve profiles of contactees "from the cities of the United States to the jungles of South America, and the European countryside" (Foreward), producer/director Joseph Randazzo presents his globe-spanning research into people "who claimed continual one on one contact with lifeforms from other civilizations beyond Earth." (Prologue)
    Among the contactees profiled in this book are George Adamski (chapter 1), Billy Meier (chapter 8) and Benjamin Creme (chapter 10). Other well-known contactees included are Sixto Paz Wells and Enrique C. Rincón.
    In his profile of George Adamski, Fred Steckling provides specific details about Adamski's training in Tibet.
    The chapter about Benjamin Creme contains a photograph (on p.103) of Wendelle C. Stevens' meeting with him in London in 1990, on which occasion Mr Creme confirmed that Giorgio Dibitonto met some of the same space people that George Adamski described in his books. (See the Preface to Giorgio Dibitonto's book Angels in Starships.
Joseph Randazzo had previously produced the 7-part Witness ET video series and was the publisher of International UFO Library magazine.
A 25th Anniversary Kindle edition of this volume was published in June 2018.
Links