Michael Wolf
First | Previous | Next | Last
The Catchers of Heaven

- A Trilogy

(1996)
This Edition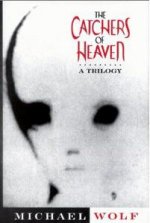 | | | | |
| --- | --- | --- | --- |
| Published | 1996 | First edition | Yes |
| Format | Hardcover (235x155mm) | Edition | |
| Publisher | Dorrance Publishing Co, Inc. | Printing | |
| ISBN | 0-8059-3907-5 | Printed by | |
| | | Country | USA |
| Series | | No of pages | 402 |
| Volume | | | |
Notes
Benjamin Creme has confirmed that Dr Wolf (Michael Wulf Kruvant) was an example of a scientist being taught by the Space Brothers, as revealed in Maitreya's Teachings -- The Laws of Life. (Share International Vol.30, No.7, September 2011, p.23)
    In his book, which the author says is partly fictionalized to be allowed to publish it, Dr Wolf implies that his team had cloned, with the help of extra-terrestrial knowledge or technology, a human being, but according to Benjamin Creme the space people never create or use clones to interact with members of Earth humanity. Along with some other questions regarding Dr Wolf's work, this question was addressed by Benjamin Creme in Share International Vol.31, No.1, January/February 2012, p.35.
    Despite his initial corroboration of Michael Wolf's story his brother, Ron Kruvant, later claimed it was all fabricated. However, in February 2011 Hong Kong Exopolitics' Neil Gould published a videotaped interview with a former associate of Dr Wolf, Mr Philippe de la Mezussière, who validated Mr Wolf's experiences (see link below).
    Michael Wolf died on September 18th, 2000.
Links