First | Previous | Next | Last
Altai-Himalaya

- A Travel Diary

(1929)
This Edition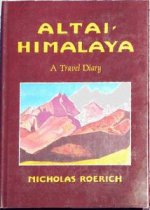 | | | | |
| --- | --- | --- | --- |
| Published | 1983 | First edition | No |
| Format | Hardcover (240x170mm) | Edition | 2nd US |
| Publisher | Arun Press | Printing | |
| ISBN | | Printed by | |
| | | Country | USA |
| Series | | No of pages | 407 |
| Volume | | | |
Notes
Helena Roerich's husband Nicholas kept a diary of his travels by yak and camel through a remote region still largely unknown today. An intellectual as well as an adventurer, he chronicles his expedition through Sinkiang, Altai-Mongolia and Tibet from 1924 to 1928 in twelve chapters detailing his encounters along the byways of Central Asia and geographical mysteries and arcane and mystical arts.
Interestingly, on pp.361-362 the author relates a sighting of a UFO while camping in the Köke Nuur district of Upper Mongolia.
    Includes 20 b/w reproductions of drawings and paintings by the author. The UK edition was published in 1930 by Jarrolds Publishers.
Republished in 2017 by the Nicholas Roerich Museum.
Links
Original Edition
| | |
| --- | --- |
| Original title | |
| Original subtitle | |
| Original publication year | 1929 |
| Original publisher | Frederick A. Stokes Company |
| Original country | |
| Original language | |