First | Previous | Next | Last
Education as Service

(1912)
This Edition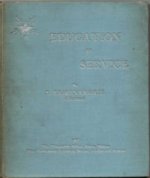 | | | | |
| --- | --- | --- | --- |
| Published | 1912 | First edition | Yes |
| Format | Hardcover (151x126mm) | Edition | |
| Publisher | The Theosophist Office, Adyar | Printing | |
| ISBN | | Printed by | Women's Printing Society |
| | | Country | UK |
| Series | | No of pages | 140 |
| Volume | | | |
Notes
At the age of 17 Krishnamurti, in this book, already outlined the subject that would remain central to his work for the major part of his mission.
    This booklet, written during Krishnamurti's sojourn in Taormina, Sicily, is an elaboration on At the Feet of the Master and deals with the same four Qualifications as set out in the latter: Love, Discirimination, Desirelessness, and Good Conduct: "I will take the four Qualifications which have been given in At the Feet of the Master, and will try to show how they can be applied to the life of the teacher and of the students, and to the relations that should exist between them." (pp.2-3; see also Krishnamurti: The Taormina Seclusion, 1912 (p.86) where C. Jinarajadasa confirms that it is a companion volume to Alcyone/Krishnamurti's first publication.)
    As Scott Forbes, former teacher and principal at Brockwood Park Krishnamurti Educational Centre put it: "...we see his concern for education and the introduction of a few themes that remain in his work. We hear the voice of the seventeen year old Krishnamurti writing from his heartfelt experiences when he says in the foreword: 'Many of the suggestions made in this little book come from my own memories of early school life;... I have myself experienced both the right way of teaching and the wrong way, and therefore I want to help others towards the right way'."
In his lifetime Krishnamurti founded seven schools where an education is attempted based on his insights into the human condition. Several more schools were set up since along the same lines.
Links