First | Previous | Next | Last
The People of the Blue Mountains

(1893)
This Edition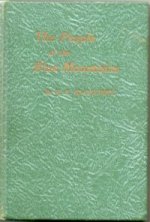 | | | | |
| --- | --- | --- | --- |
| Published | 1930 | First edition | No |
| Format | Hardcover (183 x 126mm) | Edition | 1st English |
| Publisher | Theosophical Press | Printing | |
| ISBN | | Printed by | |
| | | Country | USA |
| Series | | No of pages | 227 |
| Volume | | | |
Notes
The (incomplete) English translation of HPB's series of articles which she wrote between December 1884 and April 1885 during an interruption of her "Caves and Jungles" series.
    In this book HPB relates the experiences of her travelling party with the Todds, a tribe of gentle giants, and the Moulou-Kouroumb, a tribe of hostile dwarfs, in the Nilgiri Hills of India.
First published in the Russkiy Vestnik (Russian Messenger) under the title 'The Enigmatical Tribes of the Blue Hills of India'. (Source: 'Writings of Blavatsky in Russian', by Boris de Zirkoff, in From the Caves and Jungles of Hindostan, p. xxxviii.)
    Unlike the "Caves and Jungles" series, the original articles from which this book was compiled were not included in the Collected Writings.
Links
Original Edition

| | |
| --- | --- |
| Original title | Zagadochnyia Plemena na 'Golubykh Gorakh' |
| Original subtitle | |
| Original publication year | 1893 |
| Original publisher | V.I. Gubinsky |
| Original country | Russia |
| Original language | Russian |