Robert Boissière
First | Previous | Next | Last
The Return of Pahana

- A Hopi Myth

(1990)
This Edition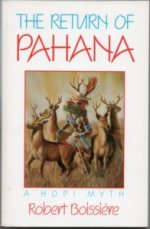 | | | | |
| --- | --- | --- | --- |
| Published | 1990 | First edition | Yes |
| Format | Paperback (215 x 140mm) | Edition | |
| Publisher | Bear & Company, Inc | Printing | 1 |
| ISBN | 0-939680-73-4 | Printed by | R.R.Donnelley |
| | | Country | USA |
| Series | | No of pages | 174 |
| Volume | | | |
Notes
Robert Boissière discusses the Hopi legend about the return of their Teacher, Pahana -- a belief which the author shows is shared among many native American peoples. He places the native American legends about the "White Brother" in the context of other world myths about further revelation, such as the Christian belief in a Second Coming.
    The legends of many tribes refer to a Teacher who taught the spiritual mysteries and an ethical way of life, best known by the names of Quetzalcoatl and Kukulcan. See also L. Taylor Hansen (1963), He Walked the Americas, which the author references on p.69 of his book.
When Paris-born Robert Boissière was in the French army during World War II, he was imprisoned in a Nazi prison camp. After he managed to escape he went to the United States when the war was over. After moving to California, Boissière visited the Hopi villages in northern Arizona. There he was adopted by a Hopi family and became a participant in their cultural life.
Re-published in 1990 by Sigo Press and in 1994 by Charles T. Banford Company Publishers (Boston, USA).
Links