First | Previous | Next | Last
A Modern Panarion

- A Collection of Fugitive Fragments

(1895)
This Edition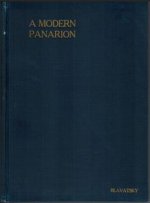 Notes
First published in 1895 as a memorial of H.P. Blavatsky's life and work, this book contains articles she wrote before the Theosophical Society was formed, which appeared in spiritualistic journals, as well as many which were published in the early days of the Movement in various magazines, including The Theosophist.
Among the 'fragments' included in this volume are two stories that were only later published in Two Stories ('An Unsolved Mystery') and in A Tell-Tale Picture Gallery ('Can the Double Murder?').
    It also includes a translation by HPB of 'The Grand Inquisitor' from F.M. Dostoevsky's book The Brothers Karamazof, which satirizes modern theology in a story about how Christ, upon His return, is arrested by the Spanish Inquisition for heresy.
Links