First | Previous | Next | Last
The Wholeness of Life

(1978)
This Edition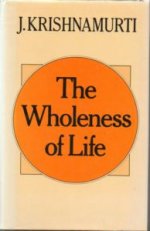 | | | | |
| --- | --- | --- | --- |
| Published | 1978 | First edition | Yes |
| Format | Hardcover (202 x 133mm) | Edition | |
| Publisher | Victor Gollancz, Ltd | Printing | |
| ISBN | 0-575-02533-6 | Printed by | The Garden City Press Limited |
| | | Country | UK |
| Series | | No of pages | 254 |
| Volume | | | |
Notes
This 3-part volume contains new aspects of Krishnamurti's teachings. In the first part Krishnamurti, with physicist Professor David Bohm and psychiatrist Dr David Shainberg, explores the fragmentation of the human mind as the root cause of human conflict.
    The second part consists of material taken from public talks held in 1977, about the stuff of one's existence, pointing out that any theories, philosophies and religious beliefs are distractions that keep us disconnected from our original unconditioned freedom.
    In the third part Krishnamurti talks with a small group at Ojai, drawn from the Krishnamurti Schools and Foundations in Canada, England, India and the USA about how it is possible to ascertain truth.
The first US edition was published by Harper & Row in 1979.
Links