First | Previous | Next | Last
The Ending of Time

- Thirteen Dialogues between J. Krishnamurti & David Bohm

(1985)
This Edition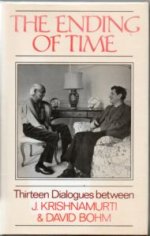 | | | | |
| --- | --- | --- | --- |
| Published | 1985 | First edition | Yes |
| Format | Hardcover (220 x 146mm) | Edition | |
| Publisher | Victor Gollancz, Ltd | Printing | 1 |
| ISBN | 0-575-03572-2 | Printed by | St Edmundsbury Press Ltd |
| | | Country | UK |
| Series | | No of pages | 268 |
| Volume | | | |
Notes
Transcripts of the thirteen dialogues that took place between Jiddu Krishnamurti and Professor David Bohm in America and England, between April and September 1980.
    The text on the dust jacket flap states: "This is the most important book we have had from Krishnamurti since the publication of his Notebook and Journal. It is the first time that an in-depth and sustained discussion has been recorded between a leading religious teacher and a leading physicist."
In the US this volume was published in a softcover edition only, last in 2003 by HarperSanFrancisco.
Earlier dialogues with Professor Bohm appeared in Truth and Actuality (1977) and The Wholeness of Life (1978), while two further conversations between Krishnamurti and David Bohm were published in the US as The Future of Humanity. A Conversation (HarperCollins, 1986).
Links