First | Previous | Next | Last
From Outer Space to You

(1959)
This Edition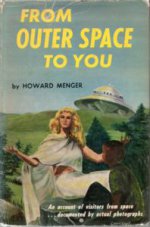 | | | | |
| --- | --- | --- | --- |
| Published | 1959 | First edition | Yes |
| Format | Hardcover (215x140mm) | Edition | |
| Publisher | Saucerian Books | Printing | |
| ISBN | | Printed by | |
| | | Country | USA |
| Series | | No of pages | 256 |
| Volume | | | |
Notes
Howard Menger's contacts started when, as a 10-years-old, he was roaming around the hills in High Bridge, New Jersey in 1932, and he encountered "the most exquisite woman my young eyes had ever beheld". He was contacted a few times during WWII when he was serving in the US Army, but the first encounter with a space ship only occurred in June 1946, in the same hills around High Bridge where his parents were still living.
    According to his account, Mr Menger had many contacts over the years, and made several trips in flying saucers. His story corroborates many of the observations and experiences of other early contactees, including George Adamski, of whom he writes: "I also spent a few inspiring hours with George Adamski, a great soul who has reached an awareness of the truth of our being and our purpose. I shall never forget that warm, friendly meeting and his words of wisdom." (p.134)
    Howard Menger describes how he was taught by his space contacts how to compose music and he eventually released an EP, 'Song from Saturn'.
Republished by New Saucerian Productions in 2014.
Links