First | Previous | Next | Last
George Adamski - Letters to Emma Martinelli

(2022)
This Edition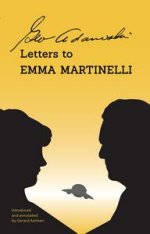 | | | | |
| --- | --- | --- | --- |
| Published | 2022 | First edition | Yes |
| Format | Softcover (216x140mm) | Edition | |
| Publisher | BGA Publications | Printing | |
| ISBN | 978-90-830336-2-4 | Printed by | |
| | | Country | UK/USA |
| Series | | No of pages | 110 |
| Volume | | | |
Notes
After purchasing a copy of Pioneers of Space in July 1950, Emma Martinelli of San Francisco wrote the author about a number of questions she had, and to check if her understanding of certain concepts was correct. This was the start of a correspondence that lasted until at least May 1952, the date of Adamski's last known reply.
    Four of Adamski's letters to Emma Martinelli were first published in 1990 as an appendix to George Adamski – Their Man on Earth by Lou Zinnstag, which was a facsimile publication of her original, unedited manuscript for the book that she co-authored with Timothy Good in 1983 as George Adamski – The Untold Story.
    Around 1987 Swedish ufologist and archivist Håkan Blomqvist obtained copies of all eight letters written by Adamski, and he was the first to write about them in the AFU (Archives for UFO research) newsletter and later in his blog (see link below).
    This volume includes all eight letters, plus an initial reply from 'Palomar Gardens' instructing Ms Martinelli how she could purchase a copy of Pioneers of Space. It also includes photographs and clippings or excerpts from articles that Adamski references in his letters, which combine to make this book a true time capsule.
    The introduction and annotations by researcher Gerard Aartsen provide the historical context in which these letters were written, challenges many of the commonly-held beliefs of critics and detractors, and casts a new and unexpected light on matters that were long considered foregone conclusions by most other writers.
Links