Lee and Brit Elders
First | Previous | Next | Last
UFO... Contact From The Pleiades

- Volume I

(1979)
This Edition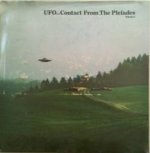 | | | | |
| --- | --- | --- | --- |
| Published | 1979 | First edition | Yes |
| Format | Hardcover (301x301mm) | Edition | |
| Publisher | Genesis III Publishing | Printing | 1st |
| ISBN | | Printed by | |
| | | Country | USA |
| Series | | No of pages | 72 |
| Volume | | | |
Notes
Large, coffeetable-sized volume combines full-colour photographs of flying saucers by Eduard "Billy" Meier with some of the messages he received from his space contacts, notes on the analyses of the photographs and on the purported Pleiadean connection. (See also Benjamin Creme's comments about Meier's contacts, which he says are with people from planets in our own solar system.)
    Volume II (72 pages) was published in 1983.
    The real value of these books are in the large photographs of the extraterrestrial spacecraft against the mountainous Swiss landscape, which convey a serene, almost tangible sense of our interconnectedness with other worlds.
    In 2004 Billy Meier's FIGU published its own photo book as Through Space and Time.
US researcher Wendelle C. Stevens was also involved in this research and later published UFO... Contact from the Pleiades - A Preliminary Investigation Report (1982) and UFO... Contact from the Pleiades - A Supplementary Investigation Report (1989) about the Meier contact case.
Links